BRYONET
The Illustrated Moss Flora of Antarctica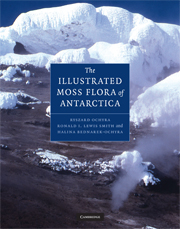 By Ryszard Ochyra, Ronald Lewis-Smith & Halina Bednarek-Ochyra
Cambridge University Press. November 2008. £125 (or $US equivalent,
but less from Internet suppliers)
It is with pleasure that I draw your attention to the recent publication
of The Illustrated Moss Flora of Antarctica, the first intensively and
extensively researched Moss Flora for the Antarctic biological region.
It provides detailed descriptions, with keys, and revisions of all known
species (111) and varieties (2) of moss in the Antarctic and, as such,
is the most comprehensive and complete Flora of all the world's biomes.
It has involved the microscopic examination of around 10,000 specimens
from Antarctica and, for comparison, from other continents.
Furthermore, type specimens of all species and infraspecific taxa have
been examined. Each species is illustrated by detailed line drawings
(ca. 20-40 per species), alongside information about their reproductive
status, ecology and regional and global distribution.
The Flora comprises 704 + 24 unnumbered pages, including Introduction (8
pages), History of muscological investigations in Antarctica (17),
Terrestrial environment and moss ecology of Antarctica (7), Diversity
and phytogeography of the moss flora (17), Background to the Flora (6)
and Systematic accounts of the taxa (531), Glossary (15), References
(57), and Index to Latin names (21). There are 273 halftone figures, 42
colour plates on unnumbered pages, and ca. 2000 references.
Dr. Ron Lewis-Smith
Centre for Antarctic Plant Ecology and Diversity, Moffat, Scotland